Saga Julia är 14 år och är den som spelar rollen som Alexandra Norden. Hon går egentligen i 9 C fast spelar att hon går i 9B med Hayleys gäng och dom andra i klassen som aldrig är där. Julia gillar att läsa böcker och har fullt med böcker hemma.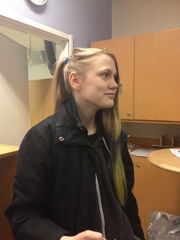 Hon gillar också att spela minecraft men är tyvärr inte med i
Team Edogg
Helen och Julia är bra vänner och har kännt varandra sedan 7:an. Hon har tre syskon , två till tre katter och en hund som heter Loke, hon har också en studsmatta som är jätte rolig att hoppa på. Julia tycker om att rida (ibland ?) och har varit på ett samma ridläger som Johanna Jonsson. Julia är riktigt duktig på att hjälpa Helen med allt möjligt och är nog en av Helens mest organiserade vänner, hon har tillexempel hjälpt Helen med Sommarlistan,Filmmanuset, datum för tacokvällar och datum för tältfester. Om det inte var för Julia så hade Helen aldrig kunnat lära känna hennes vänner bättre. Hon är bra vän med Gabriel och Sandra och dom brukar också göra saker tillsammans.
Ad blocker interference detected!
Wikia is a free-to-use site that makes money from advertising. We have a modified experience for viewers using ad blockers

Wikia is not accessible if you've made further modifications. Remove the custom ad blocker rule(s) and the page will load as expected.