Ida Olsson föredetta Dahlström är 14 år och går i 9 B fast bor i Västra Götaland. Hon spelar Diana Brains och är Helen Sahlins bästaste vän och syster. Idas största talang är att sjunga. Hon har varit med i 20 tal talangjakter och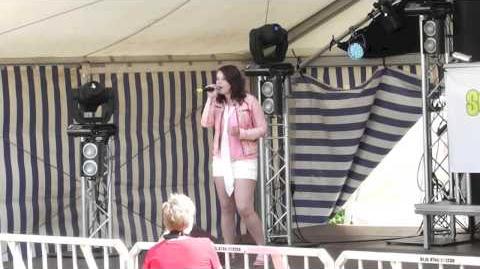 är super bra på att sjunga. Hemma hos hennes morfar så har dom en inspelningsstudio där hon brukar spela in när hon sjunger. Ida spelar flera stycken instrument och skriver numera sina egna låtar , hennes mormor har fått kontakt med en riktig  låtskrivare i Småland som ska hjälpa Ida att skriva mer låtar.  Ida har två syskon och ett riktigt Keyboard i sitt rum som Helen älskar att spela på när hon är där :D                                                     Helen och Ida har varit vänner sedan 2:an-3:an då dom först träffades på Habbo och sen i 4:an började i samma skola. Dom har åkt utomlands med både båt,bil och flyplan tillsammans, blivit jagade av Cola snubbar, blivit hjältar för en dag och allt möjligt roligt tillsammans, förhoppningsvis så kommer dom gå på samma gymnasium.  Ida och Gabriel träffades i 7:an genom att Helen började prata om Gabriel till Ida och hon tyckte han lät schysst och vill träffa honom. Dom blev jätte bra vänner ganska fort.                                                                                                   Idas planer för framtiden är att bli artist och kanske skådespelare. Hon är bra på Engelska och fysik och har ett jätte bra betyg i musik :) Det känns som Helen är den enda som inte har bra betyg :/  Strunt samma! 
Detta är länken till hennes youtube kanal :)
Ad blocker interference detected!
Wikia is a free-to-use site that makes money from advertising. We have a modified experience for viewers using ad blockers

Wikia is not accessible if you've made further modifications. Remove the custom ad blocker rule(s) and the page will load as expected.